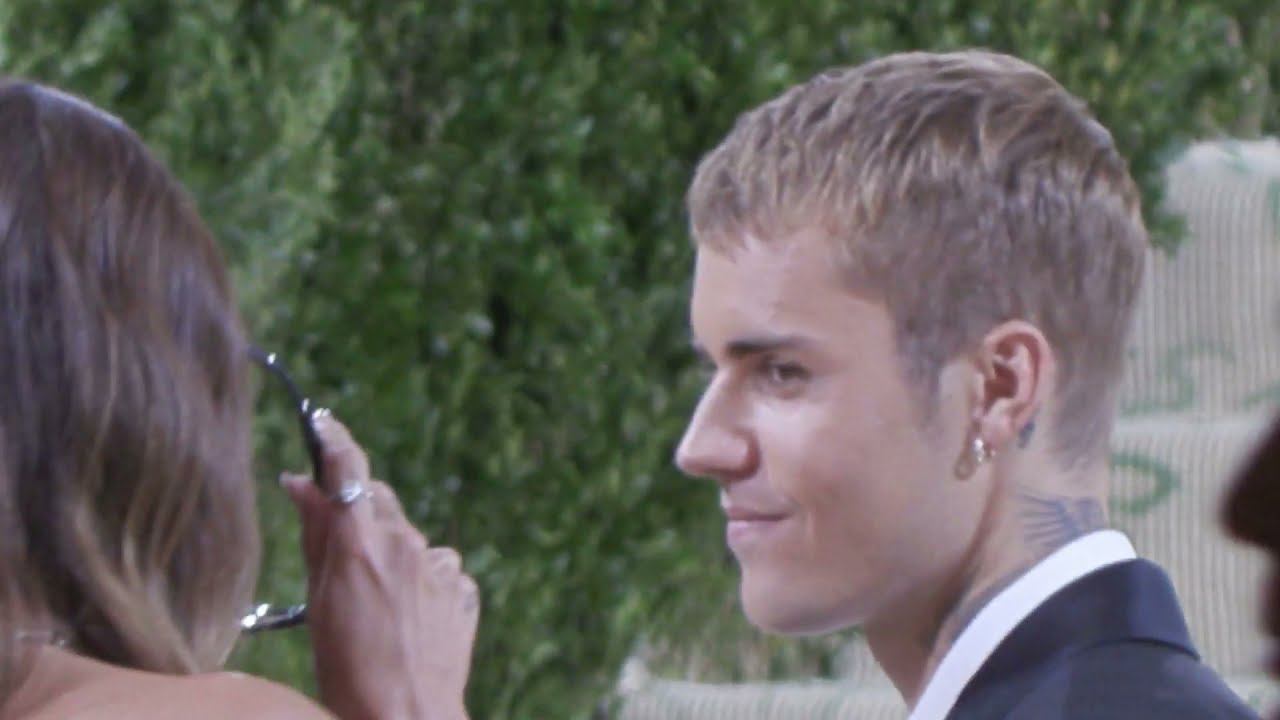 Justin & Hailey Bieber had 'Selena' chanted at them outside the Met Gala

Justin Bieber and his wife, Hailey Baldwin, attended the Met Gala on Monday. At first I was underwhelmed with Hailey's look until Kaiser pointed out the tribute to the LBD, which made me appreciate it. Justin, on the other hand, was to die for. I loved his tux and I love the way he wore it. Together, they looked wonderful. Like Kaiser, I have warmed considerably to the couple since their 2018 nuptials. I've never had an issue with Hailey, but Justin got under my skin for quite some time. However, I'm coming around to Jailey. Which puts me at odds with the Jelena fandom, apparently. Fans who cannot get over the fact that Justin and Selena Gomez are no more have decided to harass the couple wherever they go. The latest field trip for the Jelena crowd was the Met Ball Red Carpet, where they began chanting "Selena" at Justin and Hailey as they posed for photos.
Selena Gomez wasn't at Monday's Met Gala, but fans of the "Ice Cream" singer were — and made their presence known by chanting her name at Justin Bieber and Hailey Baldwin as they walked the fête's red carpet Monday night.

Bieber — who was in an on-again-off-again relationship with Gomez beginning in their teenage years that ended in early 2018 — and Baldwin appeared to ignore the chant in a video that went viral on YouTube.

The 27-year-old "Stay" singer wore a black suit by "la masion Drew," a nod at his streetwear label Drew House, while his model wife, 24, wore a black gown with a plunging neckline by Saint Laurent for their first Met Gala as a married couple.

Gomez, 29, last attended the event in 2018; she also attended in 2017 with her then-boyfriend, The Weeknd.
This isn't the first time the couple has had to deal with this nonsense. Back in December, a fan proposed that the Jelena crowd take over Hailey's Instagram Live and "bombard that s–t with Jelena and how Selena is better." Justin, to his credit, stuck up for both Hailey and Selena in the incident. What's worse about Monday's chant-attack is that it was the couple's third wedding anniversary, so they were actually celebrating. If you watch this fan's video, you can hear the chanting in the beginning. I'm skeptical that Justin or Hailey even heard them. Or they did and simply ignored The Rudes. It's hard to make out exactly what else is being said, but those talking sound excited to see Justin, in a way that makes me think they are still fans of his. If so, how can they possibly think this would be a good idea? As I said, I'm starting to see some nice things in Justin, and I like Selena. But I do not think they were the best versions of themselves while together. And poor Hailey. She doesn't deserve this. Fortunately, her cousin Ireland had her back on social media.
It might seem like Selena's responsibility to ask her fans to stand down, but I don't think it would work. She's made it clear she's done with Justin and moved on. If she entered the conversation, I'm sure the fans would find a way to twist it. What they should be shouting Only Murders in the Building because that's where Selena's shining! I am shocked how engaged I am with that sleepy little show. I'm pleasantly surprised how well Selena plays off Steve Martin and Martin Short. And it's been picked up for a second season. Maybe in S2, the victim can wear a Jelena shirt. Selena can look at the body and say, "No, leave it. That sh*t needs to stay dead."
Photo credit: Getty Images, Backgrid and via Instagram