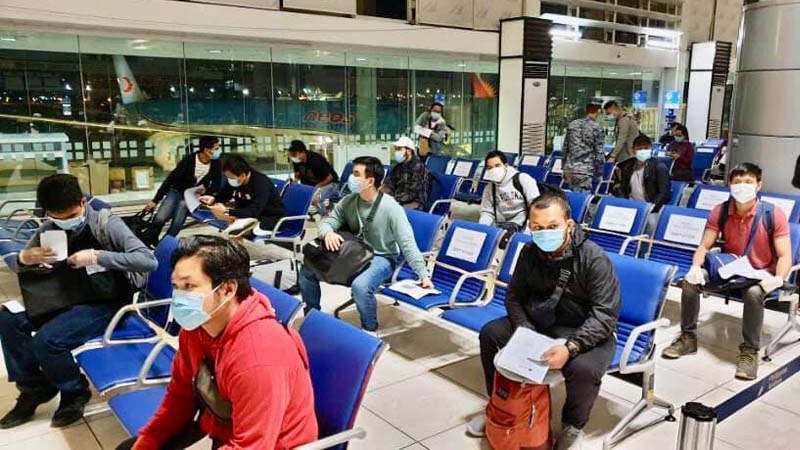 PhilHealth 'can't force OFWs to pay' premium, no effect on OEC for Filipinos in UAE, worldwide
PhilHealth 'can't force OFWs to pay' premium, no effect on OEC for Filipinos in UAE, worldwide.
Officials have debunked reports on social media surrounding alleged travel restrictions following the controversial Philippine Health Insurance Corporation (PhilHealth) circular on mandatory premium payments beginning this year.
Reports have circulated that Overseas Filipino Workers (OFWs) will be "barred from travelling" if they fail to pay the 3 percent PhilHealth premium per month. PhilHealth has not made such announcement so far, nor has it mentioned such sanction for non-paying members in its recent circular.
OEC issuance continues without PhilHealth membership
Speaking to Expatmedia.net, Labor Attache Felicitas Bay said that Overseas Employment Certificates (OEC) are still being issued without requiring Filipinos in Dubai to become PhilHealth members.
Bay, however, clarified that OECs haven't been issued since the Philippine Consulate in Dubai reopened on Sunday "presumably because there are no outbound flights and there is still a lockdown in the Philippines". A source from the Philippine Embassy in Abu Dhabi also confirmed that the procedure for issuing OECs remains the same, with applicants required to secure the standard online appointment to be accommodated.
OFWs need an OEC to be able to return to their workplace after visiting the Philippines. The document is inspected upon the OFW's departure from any Philippine airport.
The Philippine Overseas Employment Administration (POEA) has so far not made PhilHealth membership as a requirement to the issuance of OEC, which means that OFWs are technically still not compelled to pay for PhilHealth coverage and can still get the OEC in order to travel out of the Philippines.
No right to impose mandatory payments for OFWs'
Speaking to Expatmedia.net, Gemma Sotto, head of Global PCR International, the Philippine National Police's helpline for OFWs, said PhilHealth can't impose mandatory payments on OFWs or impose travel restrictions through the OEC from the POEA.
"PhilHealth doesn't have the right to impose mandatory [payments and restrictions] through POEA. They can't force OFWs to pay for it, according to POEA. So OEC can still be released without PhilHealth," Sotto told Expatmedia.net.
Sotto said she will request the POEA to issue an advisory on the matter on Monday.
PhilHealth's scope
PhilHealth is a government health agency attached to the Department of Health mandated to administer the National Health Insurance Program for health care services to all Filipinos.
Currently, PhilHealth membership is compulsory for both private and government employees in the Philippines, but membership is optional for OFWs, self-employed individuals and non-working spouses.
It remains to be seen whether the mandatory PhilHealth membership for OFWs will be enforced this year after the Philippines' universal healthcare program was signed into law last year. Under that program, Overseas Filipinos are "classified as direct contributors" and therefore are required to make premium contributions to PhilHealth. Expatmedia.net has sought a clarification from the government health agency on the matter but did not yet get a statement as of this publication.
PhilHealth criticized
Meanwhile, Sotto joined OFWs in the UAE and around the world to express her disapproval of PhilHealth's latest move.
"I don't understand the purpose of PhilHealth doing this. Let them clean up their own yard for their problems before doing mandatory payment for OFWs," said Sotto, referring to the health agency's corruption scandals exposed last year, adding that she is "not amenable" to the 3 percent premium, which she says "is not helping the OFW".
Last year, Philippine President Rodrigo Duterte said he wanted a "clean slate" for PhilHealth after it was linked to scams of fake members, ghost patients, bogus claims and overpayment of hospitals worth P154 billion. Duterte said the loss is "totally, totally unacceptable".
Thousands sign petition to scrap mandatory payment
Meanwhile, nearly 150,000 OFWs in the UAE and around the world have signed an online petition calling for the removal of PhilHealth's mandatory 3 percent premium payment from the monthly salaries of OFW members.
The petition has amassed 143,078 signatories as of 5pm on Saturday (May 2). It stems from a recently published PhilHealth circular making it mandatory for OFWs to pay a monthly membership premium equivalent to 3 percent of their salary.
According to the circular published on PhilHealth's official Facebook account on April 22, OFWs will need to declare and show proof of their monthly salaries and make a 3 percent payment towards their PhilHealth membership every month based on their salary. Those who miss a payment will be required to pay all missed contributions with monthly compounded interest.
The circular was signed by Philhealth President and CEO Ricardo Morales in April.
OFWs react
Faith Ruth Villanueva, one of those who signed the petition, described it as "burdensome". Villanueva told Expatmedia.net that if she were to make the monthly payments, it would amount to more than P2,000 per month based on her current salary as an expat teacher in Laos.
The petition says "OFWs and our dependents have been already struggling amidst this pandemic and yet PhilHealth had issued a very unfair memo regarding premium payments".
"It is very unfortunate that they call OFWs modern heroes and yet they penalize us with such directives," the petition continued, urging PhilHealth to reverse the directive for being "unfair and an abuse to our migrant workers."
Carlo Yarcia, criticized PhilHealth for imposing a "heavy burden to all OFWs" and called on the agency to "stop using overseas workers as a milking cow".
"I am willing to pay P2,400 per year but not 3 percent of my salary monthly for 12 months!" James Cipriano wrote on the online petition.
Dubai-based OFW Christine A. told Expatmedia.net that the monthly premium payments "are exorbitant, considering that many OFWs end up not using PhilHealth benefits while abroad most of the time".
Meanwhile, Lei Althea Ramos from Dubai told Expatmedia.net she has been paying her PhilHealth contribution  for nearly 20 years but has not claimed benefits. "It makes me teary eyed with anger," she said, expressing worries that OFW salaries will be affected if the premium payments are enforced.
What's it all about?
According to PhilHealth, its latest circular is aimed at setting "clear guidelines on implementation of new set of premium contribution and collection of payment from Overseas Filipinos".
The new directive covers all overseas Filipinos working and living abroad, including seafarers, Filipinos with dual citizenship, and even OFWs in distress or undocumented Filipinos.
According to PhilHealth, the "premium of overseas Filipinos shall be computed based on their monthly income to be paid in Philippine peso equivalent".
Members have the option to pay the annual premium in full or pay an initial premium of P2,400 and quarterly payments thereafter within 2020.
By January 1, 2021, PhilHealth said that the minimum initial payment will be equivalent to a 3-month premium. Members will have the option to pay in full or make quarterly payments within one year. Seafarers will have their monthly payments deducted from their salaries.
FAQS
Who are covered by PhilHealth's premium payment?
All Overseas Filipinos living or working outside the Philippines, including those on vacation or waiting to regularize their status, and registered or unregistered under the National Health Insurance Program.
Who are Overseas Filipinos?
Land-based OFWs
Seafarers
Filipinos with dual citizenship
Filipinos living abroad
Overseas Filipinos in distress
Other overseas Filipinos not previously classified elsewhere
What is the premium rate per year?
2020: 3% for incomes from P10,000 to P60,000
2021: 3.5% for incomes from P10,000 to P70,000
2022: 4% for incomes from P10,000 to P80,000
2023: 4.5% for incomes from P10,000 to P90,000
2024: 5% for incomes from P10,000 to P1000,000
2025: 5% for incomes from P10,000 to P100,000
How do you calculate the contribution of an Overseas Filipino?
The collection is based on the monthly salary of an Overseas Filipino.
For example, someone earning P20,000 per month in 2020 will pay a 3 percent premium, which is equivalent to P600 per month and P7,200 per year.
Where can we find the conversion rate calculator?
The exchange rate will be based on the Bangko Sentral ng Pilipinas' Exchange Rate Bulletin: http://www.bsp.gov.ph/statistics/sdds/exchrate.htm
What is the transition period?
The year 2020 is considered the transition period and this time all land based OFW can make an initial payment too P2,400. The balance of the yearly premium may be paid within 12 months.
What will happen after the transition period?
Starting in 2021, the lowest initial payment will be equivalent to 3-months worth of premium. The member may pay the balance every three months, or with one full payment.
What is the mode of payment?
For land-based OFWs, payment may be made every three months, every six months, or on the 12th month.
For sea-based OFWs, premium payment will be deducted monthly from their salary.
What is the settlement period?
The settlement period is from the initial payment until the 12th month before interest is imposed.
For land based OFW, the settlement is 12 months from making the initial payment.
What if the member has not paid the premium on time?
He or she will need to pay the premium with interest compounded monthly.
What documents are needed to prove my monthly salary?
For land-based OFWs (any of the following):
Employment contract
Overseas employment certificate
Overseas employment offer letter
Certificate of employment with income
Payslip
Other documents accepted by PhilHealth
Seafarers or other sea-based workers (on vacation or separated):
Certification from Manning Agency
Filipinos with dual citizenship and other Filipinos living abroad (any of the following:
Income tax return
Notarized affidavit of income declaration
Other documents accepted by PhilHealth
Do we need to update the Member Data Record?
Yes. All members need to update their record by submitting a duly accomplished PhilHealth Member Registration Form.