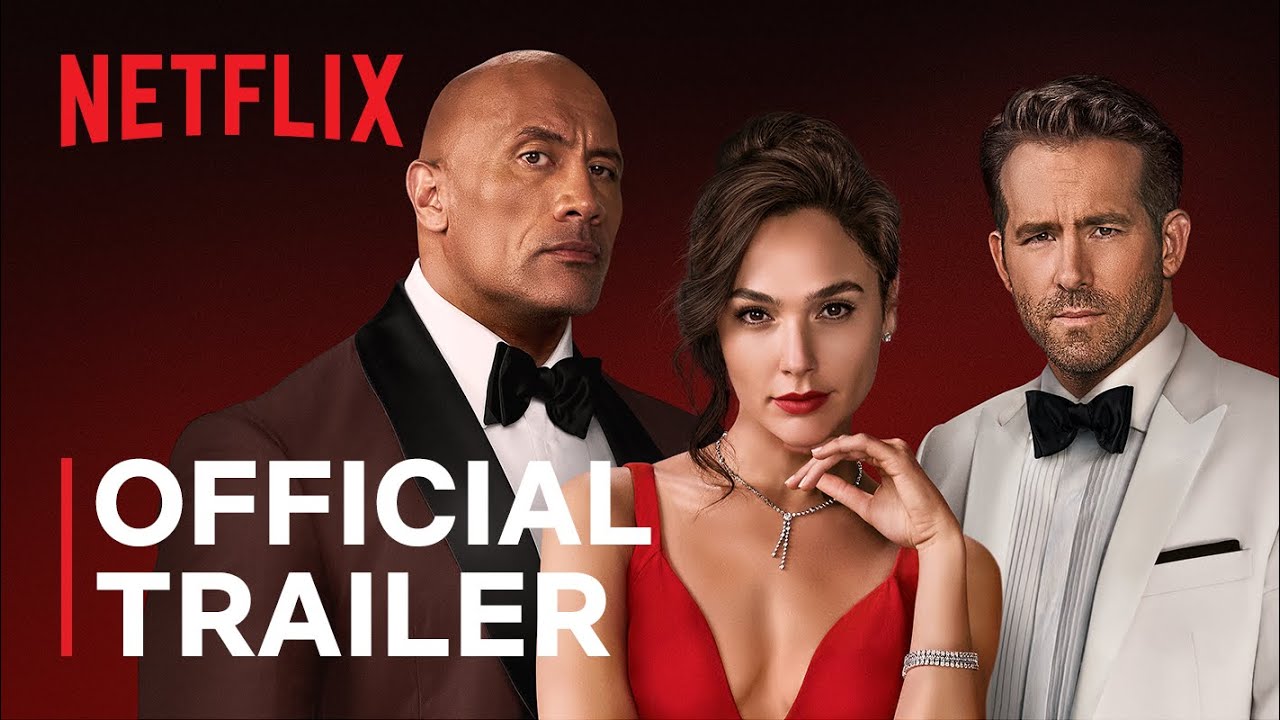 Red Notice Review: Dwayne Johnson, Gal Gadot & Ryan Reynolds Are Simply Spectacular
While both, the story and the star cast are important for a film, when you have stalwarts like Dwayne Johnson, Ryan Reynolds, and Gal Gadot coming together, you can expect a wonder. That's what happens with their latest film Red Notice too. While Ryan Reynolds brings the sass and the comedy, Dwayne brings in his amazing aura and Gal Gadot's charm is incomparable.
Before I review the film, let me tell you, what Red Notice is about. So, the Red Notice is a kind of ticket issue by Interpol to capture the world's most wanted criminals. Well, the film's story too, is about capturing two of the world's biggest art thieves – The Bishop (Gal Gadot) and Nolan Booth (Ryan Reynolds) and to do that task, FBI profiler, Agent John Hartley (played by Dwayne Johnson) is on a mission. The story revolves around the priceless jewel-studded eggs that belonged to the Egyptian Queen Cleopatra. Before I say much about the film, you need to check out its trailer.
Watch the film's trailer here:
Things I liked about the film…
Ryan Reynolds as Nolan Booth
If there was a quality I got to take from Ryan, I would take his amazing sense of humor. Especially his comic timing in the film is so stunning that you will totally have a treat watching him. In fact, even in the trailer, we get glimpses of his funny one-liners but trust me, there are a lot more comments that can make for the best comebacks ever. And right when things get intense in the film, Ryan has to say or do something that will crack you up. His jokes are so well spaced out that you will keep getting some amazing remarks throughout the film.
2. Dwayne Johnson as Agent John Hartley
The brooding Agent John Hartley brings in the intense factor to the story. But at the same time, Dwayne's personality adds a lot of substance not just to the character, but also to the film. What I loved about Dwayne in the film was, not his good cop avatar, but his 'marriage of convenience' to Ryan Reynolds. The two together in one frame, having a bromance, bring in the magic that will only charm you and you will know what I mean once you see the film.
3. Gal Gadot As The Bishop
Gal Gadot has brought in the oomph to this film. I absolutely loved how she played a villain, yet was so cool. Her dialogue delivery and her charm are captivating. Plus, seeing our Wonder Woman perform an amazing action sequence so effortlessly is truly a visual treat. The Bishop's character in the film is totally flattering, and it is the cool attitude of being the best art thief in the world that makes it oh-so-amazing.
4. The Cinematography
One brilliant thing about Red Notice is the way it has been shot. Cinematography always adds a lot of element to the story and director Rawson Marshall Thurber has played with it quite well. The breathtaking visuals across several locations and the ariel shots will leave your jaw dropped. In fact, the very first scene of the film is so brilliant that it will raise your expectations, and trust me guys, throughout the film you will not be disappointed.
Things that could have been better…
Sorry guys, I tried very hard to find some flaw in the film, but I couldn't and honestly, I am glad about it.
All in all, Red Notice is a must-watch because if you don't see this one you won't know the brilliance of cinema. Well, I am totally waiting for 12th November to watch this film on Netflix once again.
My verdict: 4.5 out of 5 stars.