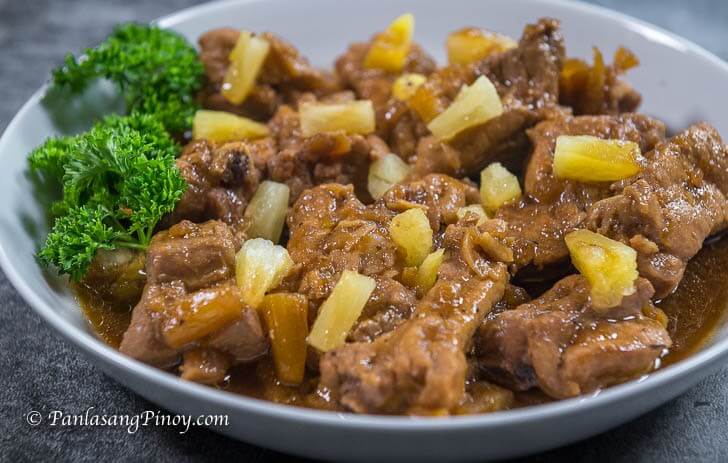 Spare Ribs Hamonado
Spare Ribs Hamonado is a type of sweet pork stew wherein marinated pork ribs are cooked in pineapple along with soy sauce and beef broth. This simple yet delicious dish can be made on regular days. Have it for lunch or dinner with rice.
How to Cook Spare Ribs Hamonado
Start by cutting the ribs into bite-sized pieces. Marinate the ribs in pineapple juice. I used the juice from the canned pineapple chunks. Do this by separating the juice from the chunks. Set the chunks aside, it will be used later in the process.
Marinating in pineapple juice provide flavor to the ribs and it also helps tenderize the meat. The longer the marinating time, the better the result will be.
Once done marinating, separate the remaining pineapple juice that was used as marinade. Set it aside for now. Saute onion and garlic and add the marinated ribs once the onion softens. Cook until ribs turn light brown. Pour-in the remaining pineapple juice next and then add beef broth and soy sauce. Let the liquid boil.
The meat on the ribs needs to cook until it tenderizes. Do this by adjusting heat between low to medium. Add pineapple chunks, cover the pan, and then boil for 1 hour. You may add water if you think that the sauce is about to get dry.
Finish by adding brown sugar and seasoning with salt and ground black pepper as needed.
This dish is best enjoyed with warm rice. I recommend topping this over newly cooked rice. Try this spare ribs hamonado recipe
Spare Ribs Hamonado
Pork ribs marinated and stewed in pineapple juice, soy sauce, and pineapple chunks.
Summary
Course
Main Course
Cuisine
Filipino
Prep Time
1 hour
Cook Time
1 hour 30 minutes
Servings
4 people
Calories
679 kcal
Author
Vanjo Merano
Ingredients
2 lbs spare ribs cut into serving pieces
20 oz. pineapple chunks in can
2 cups beef broth
1 piece onion
5 cloves garlic crushed
3 tablespoons soy sauce
2 1/2 tablespoons brown sugar
3 tablespoons cooking oil
Salt and ground black pepper to taste
Instructions
Separate pineapple juice from the chunks. Combine juice with spare ribs in a bowl. Marinate for at least 1 hour. Remove the juice afterwards and set aside.
Heat oil in a pan. Saute onion and garlic until onion softens.
Add marinated ribs. Saute until color turns light brown.
Pour-in pineapple juice. Add soy sauce and beef broth. Stir. Let the mixture boil.
Put the pineapple chunks into the pan. Cover and adjust the heat between low to medium. Cook for 1 hour.
Add brown sugar and season with ground black pepper and salt. Continue cooking until sauce reduces to half.
Transfer to a serving bowl. Serve with rice. Share and enjoy!
Nutrition
Calories: 679kcal | Carbohydrates: 34g | Protein: 29g | Fat: 48g | Saturated Fat: 13g | Cholesterol: 127mg | Sodium: 1334mg | Potassium: 719mg | Fiber: 2g | Sugar: 29g | Vitamin A: 71IU | Vitamin C: 17mg | Calcium: 76mg | Iron: 3mg
Watch How to Cook Spare Ribs Hamonado