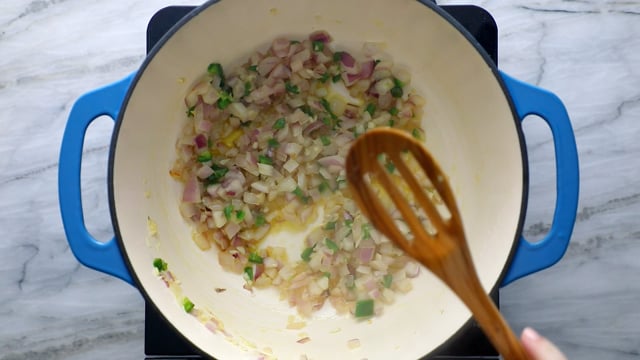 Chicken Tortilla Soup
It's hard to take a parade around Soup Town without a quick jaunt through everyone's favorite smoky, scoopy, top-able chicken tortilla soup.
Thin, but not too brothy. Just enough to stand up to deep, cozy spoonfuls and piles on piles on piles of toppings but not feel like a chili or stew. Tender chicken shreds, buttery pinto beans, all the veg flavor but no big chunks, just the right amount of heat throughout…
Ugh, is there a park bench somewhere? We might be here a while.
It's hard to pinpoint exactly the origin of tortilla soup, but it is generally attributed to Central Mexico and especially popular in Mexico City, where it was possibly born in the nearby state of Tlaxcala (which in Nahuatl means "land of the corn" or "place where tortillas abound"). In this great guest post by Lorena Masso over on the ful-filled blog, she talks a lot about how this soup in particular represents the blending of Indigenous and Spanish cultures in much of Mexican cuisine. For example, she says Spaniards are generally thought to have introduced the concept of soup while corn is, of course, an important and vital ingredient in native culture.
Lorena also talks about how tortilla soup can be found all over Mexico and the toppings and ingredients can definitely vary from state to state. But no matter where you find it, you can always count on a rich chicken broth, roasted tomatoes, and chilis.
It is a pretty ubiquitous soup here in the U.S. as well, and it seems everyone has a recipe/style they love most. This is ours, with some shifts in ingredients and method based on preferred texture and taste. And oof, do we love it.
What's In This Chicken Tortilla Soup
The ingredient list in any tortilla soup is usually very simple but the flavor, we assure you, is not. We like to run the aromatic veggies through the food processor, so the bits are nice and small to start things out. Red onion, a hefty amount of garlic, and then a jalapeño, but you could sub any kind of pepper you like. A chipotle would be great here, dried guajillo or ancho chili for a more authentically Mexican take, or a green bell pepper if you are on the Midwestern level spice chart.
You could add other veg if you like, it's yours to play around with! Also, how are you about big tomato chunks in your soup? We are a little 👀 👀 about them, so we used a can of crushed tomatoes. Delicious tomato flavor with none of the surprise smush-cubes, you know?
But the real bonus of using a can of crushed tomatoes is the ever so slight, almost elegant thickening it brings to this soup. Kicks things up just one notch on the luxe chart and for that, we are big, big fans. If you are looking for an even thicker soup, some recipes will thicken with blended dried tortillas or cornmeal.
Beyond that all you need is:
Chicken thighs (chicken breasts would work too, but chicken thighs are a real flavor-win here)
Veggie broth
All the toppings in the world! (Cilantro? Mm hmm. Some crema and cotija cheese? Yep. Homemade fried tortIlla strips? HELLO YOU ANGEL.)
How To Make Chicken Tortilla Soup
After you've assembled all your players, the process is pretty simple. We've done it on the stovetop and in the Instant Pot so really, it's up to your mood.
Veggies. Again, we preferred a buzz through the food processor, but you could certainly do a rough chop if that's more your soup texture. Sauté until soft and fragrant.
Simmer. Add your crushed tomatoes, broth, and chicken thighs and let them simmer for a bit.
Shred & stir. Once cooked, pull the chicken out to shred and then add back in along with the beans and any extra broth you might want.
Go time, party time. Get topping, friends.
Top It All Off
Okay, what is chicken tortilla soup without the tortilla part and this is where we're going to persuade? beg? demand? that you take a couple extra minutes and fry up your own *homemade* corn tortilla strips. YES, some of your fave tortilla chips would work totally great in a pinch but whoo-boy, these little fresh, crisp, salty strips that you made your ding-dang self?! Unmatched.
Slice up some small corn tortillas into thin strips and then quick fry them up in a pan with oil, salt, and then chomp and enjoy them for the rest of your days. That's it. You've done it. High five yourself.
Now that we've convinced you, please also get at the ready your piles of bright cilantro and fresh lime squeezes, your buttery chunks of avocado, your salty sprinkles of cotija, your drizzles of Mexican crema, or thwaps of sour cream. Build delicious mountains in this soup and then tear them down by the spoonful.
Chicken tortilla soup is just, like, the friend that's always there for you — comforting, flexible, easy…lovingly encourages you to make your own fried tortilla strips whenever possible. You know, like any good friend would.
Chicken Tortilla Soup: FAQs
Can I use chicken breasts instead of chicken thighs?
Yes! Of note though, there's a bit more flavor in chicken thighs that's really, really delicious for this soup.
What goes with chicken tortilla soup?
Tortilla chips, fried tortilla strips, maybe even these jalapeño corn fritters. SO GOOD!
Can I freeze this soup?
Yes, definitely! Just rewarm on the stovetop.
How can I thicken this soup?
Blended dried tortilla or cornmeal can help thicken this up.
Can this be made in the Instant Pot?
Yes! See recipe notes below.
Can I use bone-in, skin-on chicken thighs?
Yes and it'll add a TON of flavor to the soup if you do. It'll just take a little bit of time to remove the skin and bones when everything finishes cooking.
Prefer To Watch Instead Of Read?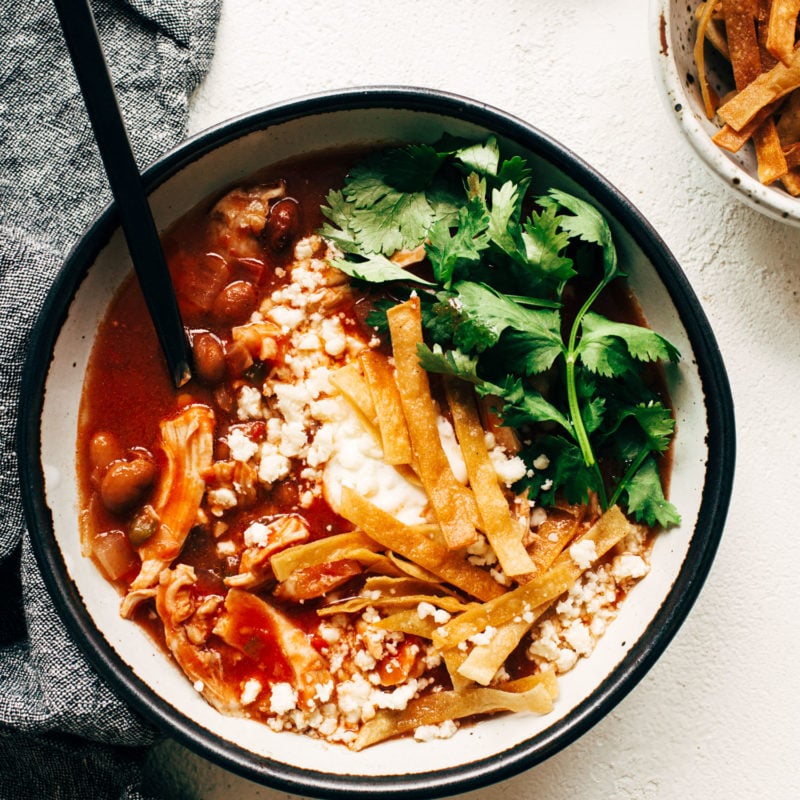 Chicken Tortilla Soup
---

Author: Lindsay

Total Time:

30 minutes


Yield:

4-6 servings
Description
Winner, winner, Chicken Tortilla Soup dinner! Tender chicken thighs, creamy pinto beans, garlic and onions, crushed tomatoes, jalapeño pepper, crushed tomatoes, and ALL the toppings.
---
2 tablespoons

olive oil

1

red onion, diced

4

cloves garlic, minced

1

jalapeno, minced
one

14

-ounce can crushed tomatoes

2 1/2

–

3

cups

vegetable broth

1

pound

boneless skinless chicken thighs

1 1/2 teaspoons

salt

1

can pinto beans, drained and rinsed
crispy tortilla strips, cilantro, cotija or sour cream for topping
---
Heat oil in a soup pot over medium heat. Add onion, garlic, and jalapeño; sauté for about 5-10 minutes or until very soft and fragrant.
Add the crushed tomatoes, broth, chicken thighs, and salt. Simmer for 10-15 minutes or until chicken thighs are cooked through.
Remove chicken from the pot. When cool enough to handle, shred and chop into small bite-sized pieces. Stir back into the pot with the beans. Add more broth depending on how thin you like it. Top with EVERYTHING. Crispy tortilla strips, cilantro, cotija, crema, lime, etc.
Notes
Instant Pot Instructions: Heat the oil and sauté the onion, garlic, and jalapeño for 5-10 minutes until soft and fragrant. Add in the crushed tomatoes, broth, chicken thighs, and salt. Seal the lid and set the cook time to 15 minutes with 10 minutes of natural pressure release. Remove the chicken from the pot to shred. Stir the shredded chicken back into the soup along with the pinto beans.
Prep Time:

10 minutes

Cook Time:

20 minutes

Category:

Soup

Method:

Stovetop

Cuisine:

Mexican-Inspired
Keywords: chicken tortilla soup, tortilla soup, chicken tomato soup
Recipe Card powered by
More Chicken Soups To Swoon Over
The post Chicken Tortilla Soup appeared first on Pinch of Yum.