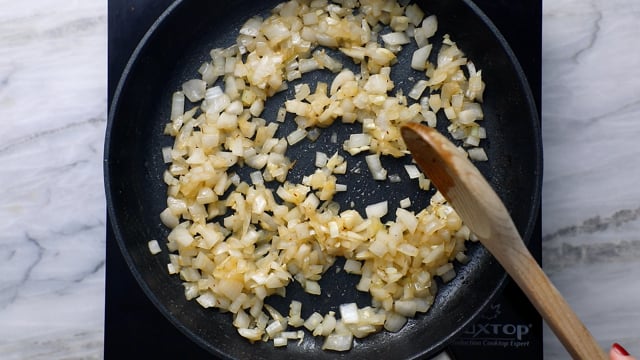 Everybody's Favorite Corn Casserole
Clear a spot on the Thanksgiving table this year for this deliciously savory, unstoppably scoopable corn casserole with its hint of sweet, its confetti of bacon, and pulls of sharp cheddar cheese. There is a new side dish in town and it is not messing around.
This is not like a loose creamed corn and it is not sturdy or dry like a cornbread. It's somewhere delightfully in the middle with a soft tight texture that feels almost more like a corn custard but also…not quite that? It's a bit of a uniCORN situation (lol, sorry forever). It is a truly unique and highly inviting texture and we just cannot stop piling scoop after golden scoop onto our holiday plates. The sweet corn is speckled throughout so you get little bursty bites here and there. Plus, garlic and bacon and cheese so, you know, all the best things.
Also, we don't want to brag but, it is just really beautiful. Sure, that whole slow-roasted turkey thing is often the star but….honestly, we would maybe just pop this gal in the center of the table and see how it goes.
Creamed Corn Vs. Corn Casserole: What's The Difference?
Creamed corn — maybe you love it, maybe you hate it — has several different variations in its prep (heavy cream? cream cheese? corn milk from the cob? yes, that's a thing), but one thing that is consistent is that it is well, creamy. A lot of sauciness among your corn kernels. There are several delicious recipes out there for it that go way beyond the canned version you may have discreetly pushed aside when passed to you during holidays past. And though a can of creamed corn on its own maybe isn't everyone's favorite, a can of it in this recipe is very chef's kiss! It helps keep the casserole supple and thick enough that it holds together scoop after scoop.
Corn casserole, however, is entirely different than creamed corn. It is a very popular southern holiday side dish and it is super moist, almost creamy with bright bursty corn kernels throughout. It's like creamed corn, cornbread and almost a soufflé all in one dish!
Ingredients For Corn Casserole
Straight up corn casserole is nothing short of amazing but we're feeling festive, it's the Holiday Series, and we wanted to zazz things up a little. And when one zazzes, one must gather:
bacon
onion and garlic
sharp cheddar cheese
fresh chives
Once your zazzers are collected, grab your pantry basics (flour, sugar, baking powder, etc) along with some:
cornmeal
frozen corn
can of creamed corn
sour cream
butter
eggs
No Jiffy Box Here! Corn Casserole From Scratch
We're going fully from scratch here on this so you can tuck away that little box of Jiffy mix. No judgment on a box mix at all, we love a good shortcut. But bringing this casserole together from scratch is really key to its delicious flavor and addicting texture, you can adjust the sweetness and flavors as you see fit, and it really isn't all that much more time-consuming! You'll start with crisping bacon and end with showering cheddar cheese and chives on top, and everything in between is pretty simple.
Bacon. You'll start by crisping up your bacon and then you'll get your onions and garlic going in that same pan for optimal yum boosts. You'll chop up the bacon and save half for the mix and half to toss on top at the end.
Batter. Mix your dry ingredients and then whisk together your wet ones in a separate bowl. Add the corn, creamed corn, sour cream, onion mixture, half the bacon bits and all their salty goodness, and then slowly incorporate your dry ingredients.
Bake. Pour into a greased baking dish and bake for about 35 minutes. Remove and cover with shredded sharp cheddar cheese, the rest of the crispy bacon, and some fresh chives and bake for 5 minutes more.
Then plop that beauty IN THE CENTER OF YOUR TABLE and see if anyone can even finish their "oohs and aaahs" before digging into that rich golden goodness. It's so, so good.
If corn casserole is already part of your holiday feast, congratulations on being very smart and good at holidays, and also please consider trying this zazzed up version this year? If you're new to it, whoo boy, you're in for such a beautiful, rich, deeply comforting, delicious surprise. Merry holidays to you.
Corn Casserole: FAQs
How can I make this ahead of time?
You can prep this casserole by doing everything through step 2 and baking the casserole in a greased baking dish for 35 minutes. Cover and store in the fridge for up to 2 days. Rewarm in the oven at 350 degrees for 10 minutes and complete the rest of step 3.
Can I freeze this casserole?
Yes! Store in an airtight freezer-safe container for up to 3 months.
How can I make this vegetarian?
Just leave out the bacon and add in a little bit more salt.
Prefer To Watch Instead Of Read?
Everybody's Favorite Corn Casserole
---
Description
Corn Casserole all zazzed up! Bursty bites of cream-style corn and sweet corn plus garlic, bacon, and cheese throughout – so you know it's really, really good!
---
1

pound

bacon, cut into small pieces

1/2

onion, finely chopped

1

clove garlic, minced

2/3

cup

cornmeal

2/3

cup

flour

1/4

cup

sugar

1 tablespoon

baking powder

1/2 teaspoon

salt

1

cup

sour cream

1/2

cup

butter, melted

1

egg
one

15

-ounce can corn
one

15

-ounce can cream-style corn

1 1/2

cups

sharp white cheddar
Chopped chives
---
Preheat the oven to 350 degrees. In a pan over medium heat, fry the bacon pieces until crispy. Remove from the pan, but leave some of the bacon grease to sauté the onions. Add the onions and a sprinkle of salt to the pan and cook until softened. Add in the garlic and cook for another minute. Take the pan off the heat. Chop the bacon into bits.

In a bowl, combine the cornmeal, flour, sugar, baking powder, and salt. In a separate bowl, whisk the sour cream, butter, and egg until smooth. Then, stir in the corn, cream corn, the onion mixture, half of the bacon. Add in the dry ingredients, and stir until just combined.

Pour into a greased casserole dish. Bake for 35 minutes. Remove from the oven and top with the cheese and remaining bacon. Bake for another 5 minutes. Sprinkle chopped chives over the top.
Prep Time:

20 minutes

Cook Time:

50 minutes

Category:

Casserole

Method:

Bake

Cuisine:

American
Keywords: corn casserole, corn souffle, casserole side dish
Recipe Card powered by
More Thanksgiving Side Dishes We Love
The post Everybody's Favorite Corn Casserole appeared first on Pinch of Yum.