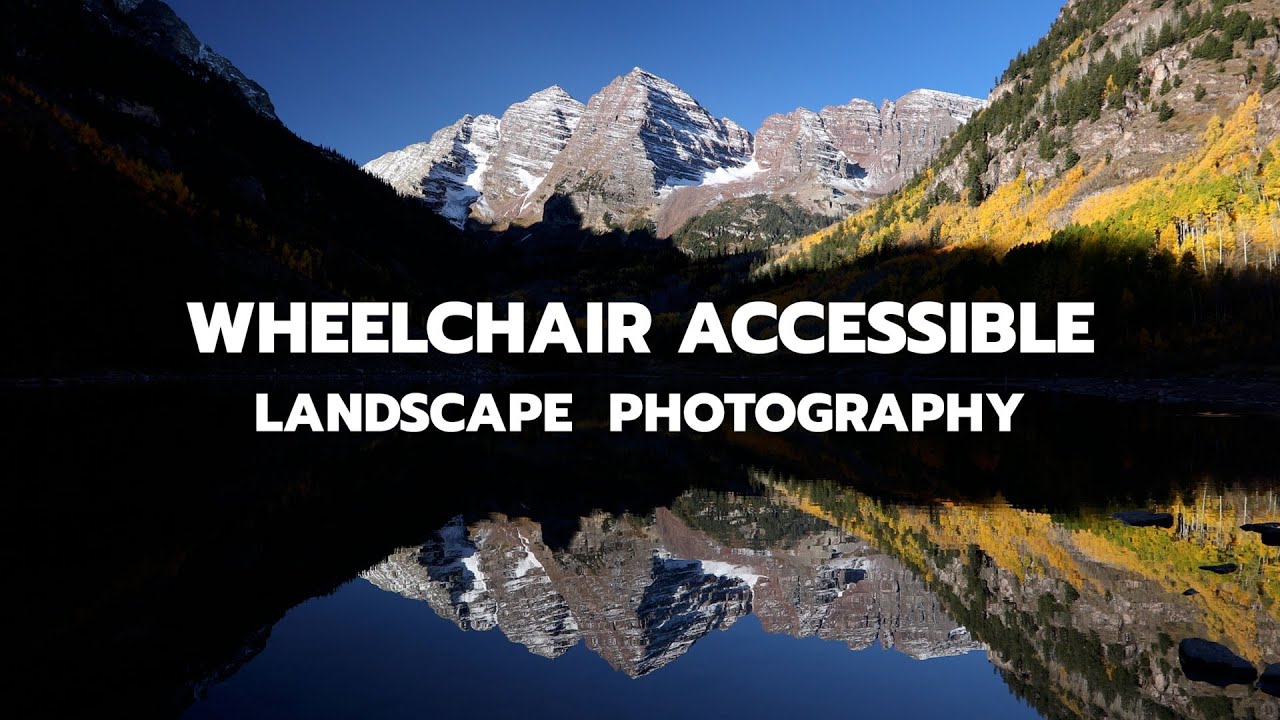 Wheelchair Accessible Landscape Photography Guide, Part 1
Welcome to the first chapter of my new Wheelchair Accessible Landscape Photography Guide. In the coming weeks I'll highlight some beautiful landscape photography locations across the United States that are easily accessible no matter your level of mobility.
In this episode we explore three stellar destinations in beautiful Colorado.
Introduction
If you or someone you know is living with a disability, rest assured that America offers a huge variety of opportunities to experience the great outdoors. Furthermore, photographing stellar destinations is actually much easier than you might think, so long as you know where to go. Whether you're sporting a pair of crutches, a prosthetic limb, a wheelchair, a rascal, or whatever you use to get around, this guide will get you started on the path to discovery.
Before we begin, let us first dispel the rather hilarious misconception that all landscape photographers are super human athletes who casually crush triathlons while munching on kale. In fact, this bit of mythology could not be farther from the truth. Most landscape photographers actually go to great lengths to avoid physical activity (unless it involves reaching a destination which serves pizza and beer).
Ultimately, the point we're tying to make is that landscape photography is not just reserved for elite hikers. Landscape photography is accessible to everyone. This means that people with disabilities can be very successful at creating stellar images of the world's most beautiful destinations. All you need is a little ambition and a good roadmap to point you in the right direction. And with this, we arrive conveniently at our first wheelchair accessible destination.
Maroon Bells, Aspen
For our first stop we find ourselves in central Colorado, under the towering peaks of the legendary Maroon Bells. Now, pretty much everyone on the landscape photography scene has marked the Bells as a bucket list destination. These mountains have been photographed a bajillion times by countless photographers from all across the world. So, you're not going to win any awards for originality at this location. . . but, that doesn't make it any less spectacular. There's a reason why artists flock to this destination—it offers the ultimate Iron Chef recipe for landscape photography.
Situated at the end of a Maroon Creek Road, the Bells are just a short drive from the nearby town of Aspen, Colorado (a place where the beer flows like wine).
Driving to the Maroon Bells requires a park pass which can be purchased from the ranger station located on Maroon Creek Road. You'll want to make sure to arrive very early in the morning. This is a popular destination and once the parking area is full, the only way to access the Maroon Bells is by catching a bus at the visitor center. The bus system is also wheelchair accessible. . . but, it does get a little crowded.
Maroon Creek Road ends in a large, paved parking area which offers plenty of maneuverability for vehicles of all sizes. From the parking area, a flat, wide, compacted dirt trail leads a mere 40 yards to the shoreline of Maroon Lake.
Now, as long as the area is not covered in deep snow, this trail should be a piece of cake for both manual and electric wheelchairs. This is the optimal location for capturing one of the most stunning scenes in all of America.
Snow-capped mountains rise above a brilliant aspen forest which provides excellent views in both summer and fall. And, given the right conditions, the entire scene is reflected perfectly in the clear waters of Maroon Lake. This gives you two landscapes for the price of one, and seals the deal on yet another dazzling destination for your photo portfolio.
Garden of the Gods, Colorado Springs
The next stop in our little Colorado adventure with one of my personal favorites. Garden of the Gods is conveniently located inside the city of Colorado Springs. This park is dominated by its signature red rock towers which rise from the earth like otherworldly crimson stalagmite.
Garden of the Gods is a highly accessible destination with several large parking areas and an intricate network of wide, flat, paved trails.
The primary parking area has a generous allotment of handicapped parking spots. Additionally, the parking lot transitions smoothly to the paved trail system. Virtually every aspect of this park is easily passable by wheelchair.
The new pavilion overlook is directly connected to the primary parking area. It offers a large, curving ramp which provides visitors with an elevated vantage of one of the best views in the entire park.
Garden of the Gods also features a paved road which circles the entire perimeter of the park. This road offers excellent views of the towers; and if I'm being perfectly honest, I have definitely captured my all time best images from the road. Show up in the summer time and the setting sun may even spark up a nice rainbow.
Evenings in Garden of the Gods are a great time to watch Mother Nature send up the fireworks, making this one of the best wheelchair accessible destinations in all of Colorado.
Dallas Divide, San Juan Mountains
Situated in western Colorado, these mighty rock giants are a part of the greater Rocky Mountains which span from the central United States up into Canada. Known as the Switzerland of America, these jagged peaks rise above endless aspen forests.
The San Juan Mountains are criss-crossed with all kinds of quaint country roads which offer spectacular views of the local landscapes. One of the best examples of this can be found on the Dallas Divide, where Highway 62 spans between Ridgeway and Placerville.
More Great Locations Coming Soon
When you hit the road as much as I have, it soon becomes clear that the United States offers excellent travel provisions to people with disabilities. From the fast-paced interstate highways to the quaint country backroads, our nation is a vast network of overlooks and vistas which will keep any landscape photographer busy for years on end.
The three destinations in this guide represent a mere handful of the fantastic locations that are fully wheelchair accessible. If you are a person who believes that landscape photography is beyond your reach, now might be a good time to reconsider, and watch as a whole new world of opportunity opens up.
In future guides, we'll continue our exploration of wheelchair accessible places. It's a great big world out there and much of it is right at your fingertips. All you need is a good roadmap, a little motivation and a splash of adventure. Follow the light, and the world is your studio.
---
About the author: Lewis Carlyle is a self-taught landscape photographer and documentary filmmaker. He has never won an award, unless you include last place in a local pie eating contest, where he was disqualified for feeding his pie to a dog. For more photography adventures you can visit his website, or find him on YouTube and Facebook. This post was also published here.