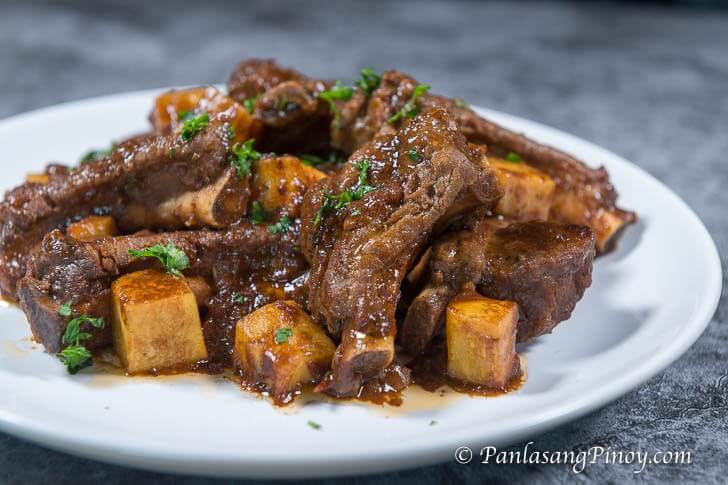 Sinantomas (Filipino Braised Pork Dish)
How to Cook Sinantomas
There are versions that involve steaming. This is the no-steam version.
Marinating the meat several hour before cooking makes it more flavorful. This is the same technique that I did for this recipe.
Start by cleaning the pork ribs. Remove the membrane and slice and chop it into serving pieces. I do the same thing for my ribs kaldereta.
Once the pork is ready, place it in a large bowl. Combine the marinde ingredients starting with the ground black pepper or cracked peppercorn. Add soy sauce and fish sauce. Pour pineapple juice afterwards and then mix until well blended.
Using pineapple juice has two benefits. It adds flavor to the dish and it also helps tenderize the meat.
I usually marinate this overnight for best results on both flavor and texture.
Once the pork ribs are ready for cooking, start by pan-frying sweet potato until it turns light brown. I usually fry one side for 45 seconds to a minute. Remove from the pan afterwards.
Next, pan-fry the marinated ribs. Do this for 3 minutes on each side or until it turns brown. Remove the ribs from the pan and set aside for now. Remember not to overcook the ribs.
Now that the sweet potato and ribs are prepped, everything should be a walk in the park from this point forward.
Saute onion, garlic, and tomato until onion softens. Pour the remaining marinade into the pan and then add ribs and a cup or so of water. Also add the banana ketchup. This provides sweetness and color to the dish.
Boil in low heat until the meat gets very tender. This should take between 60 to 90 minutes. Don't forget to cover the pan in the process.
Lastly, add sweet potato and then cook until soft.
I enjoy this dish with warm rice. You can also have it with steamed vegetables on the side.
Try this Sinantomas recipe. Happy cooking!
Sinantomas Recipe
Braised pork ribs with sweet potato.
Summary
Course
Main Dish
Cuisine
Filipino
Prep Time
3 hours
Cook Time
1 hour 30 minutes
Servings
4 people
Calories
1327kcal
Author
Vanjo Merano
Ingredients
3 lbs. pork ribs
1 piece sweet potato cubed
5 cloves garlic chopped
1 piece onion chopped
1 pieces tomato chopped
1 1/2 tablespoons fish sauce
1/2 cup soy sauce
1 cup pineapple juice
1/4 cup banana ketchup
1 1/2 cups water
1 1/2 teaspoon whole peppercorn cracked
1/2 cup cooking oil
Instructions
Prepare the ribs by removing the membrane and slicing it into serving pieces.
Combine the marinade ingredients along with the ribs in a big bowl. Start with the ground black pepper, fish sauce, soy sauce, and pineapple juice. Mix well. Marinate for at least 3 hours. Note: the longer the better.
Heat oil in a pan. Fry the sweet potato until it turns light brown. Remove and set aside.
Using the remaining oil, pan-fry ribs for 3 minutes per side. Remove from the pan. Set aside.
Saute onion using remaining oil. Add garlic and tomato. Cook until onion softens.
Pour-in remaining rib marinade ingredients. Let it boil.
Add ribs back into the bowl. Pour water. Let boil.
Add banana ketchup. Stir and cover the pan. Continue cooking in low heat for 1 to 1 ½ hours or until the meat gets tender.
Add the sweet potato back in the pan. Cook for 3 minutes.
Transfer to a serving plate. Serve with warm rice.
Nutrition
Calories: 1327kcal | Carbohydrates: 30g | Protein: 58g | Fat: 108g | Saturated Fat: 28g | Cholesterol: 272mg | Sodium: 2600mg | Potassium: 1296mg | Fiber: 3g | Sugar: 13g | Vitamin A: 8093IU | Vitamin C: 11mg | Calcium: 107mg | Iron: 5mg
Watch how to cook Sinantomas (Filipino Braised Pork Dish)